What makes you proud to be Serbian?
Foreword from 2020: The following short experience report is about our stay in Belgrade with children during our 11-month trip to Europe in 2014. No article in my blog has triggered more reactions than this one. Many people of Serbian descent with ties to their homeland apparently find it a slap in the face. I'm sorry. Because actually it was just a snapshot that shocked me at the time and that I had to write from my soul. An unadulterated impression, which is described by a basically well-educated but rather unprepared German who has landed in Belgrade and has no family connection to the region. There were a few factual errors that I have - hopefully - corrected in the meantime. Nevertheless, six years later, I myself and my family are still gladly insulted for this text and sometimes even verbally threatened (which is why I have now closed the comments for this post). Sadly, this fact has shaped my image of Serbia much more than the story told. Anyone interested in traveling to Serbia with children (or without) should therefore not only read this (actually not very informative) blog post, but above all the discussions in the comments.
This is followed by my original travel blog entry from 2014 (!), Which was corrected only in the case of factual, objective errors, but commented downwards and added many links to reading recommendations.
Before I come out with the problems we have when traveling through Serbia with family, I would like to make one thing clear: Our trip through south-east Europe is beautiful! We experience so many wonderful moments and see magical places. And yet it is above all the ambivalent experiences that move me to write them down right away and to make a blog post out of them relatively promptly. That distorts the picture in our family travel blog, but sorry - what must, must.
Serbia is the first country on our 11-month trip to Europe that I cannot recommend as a family travel destination with a clear conscience. I'm sitting in our colorful little apartment in Belgrade's quiet suburb of Zemun and I'm just happy that we don't have to go out again today.
It's not that it's really dangerous or anything. The greatest danger in all of the countries we have traveled east of home is and remains the road traffic, and it doesn't seem as bad to me in Serbia as it does in Romania.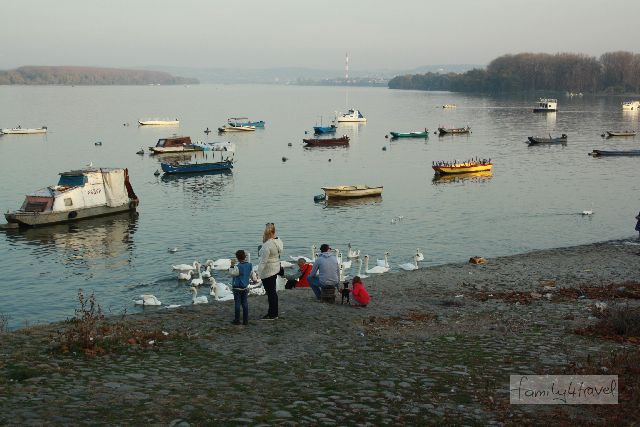 Belgrade is idyllic on the Danube in the quiet Zemun district.
It's probably just bad timing. The November sun shines very mildly from the bright blue sky. On the day of our arrival we took a walk along the Danube and sat in a street café in our t-shirts.
But two days later a horned motorcade formed in front of our window.
At first we think of a wedding, then we think of a soccer game we won. But at noon at twelve? And so persistent?
When we look through the draughty window at the street, we see that flags are waving from the cars. Most show a man's face. At a loss, we scour German and English news portals on the Internet until I get the idea to search Twitter under the hashtag #Belgrade. From there I make my way through without any problems until I know the name and occupation of the flag man: It is Vojislav Ŝeŝelj, leader of the Serbian Radical Party, who was imprisoned in The Hague for eleven years for his alleged war crimes and is now out has been discharged for health reasons (he has cancer). We googled his résumé and shudder. We are stunned that the return of this man is being celebrated in such a visible way. A stranger to me replied to a corresponding tweet with: "Yep, but the celebrations of the Bosnians and Croatians of their war criminals were just as great." I shake my head in disbelief. I do not doubt the veracity of this statement. But the basic attitude behind it, 20 years after the end of the war, makes my hair stand on end. The way of reasoning reminds me too much of home: "But Janis does that too!" - "Silas has started!" Apparently whole peoples argue here with kindergarten logic.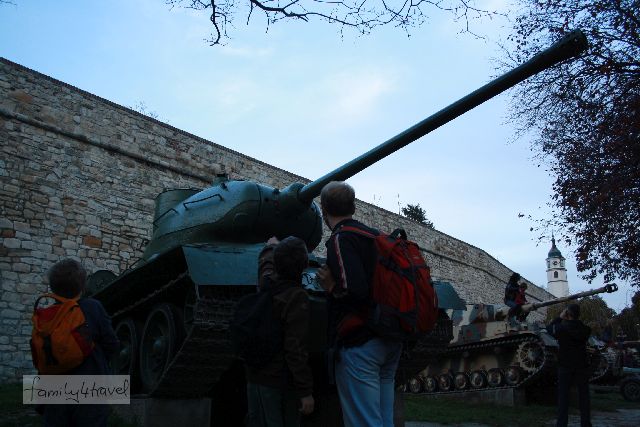 Tanks are exhibited in the city park at the Belgrade Fortress. Enthusiastic parents take souvenir photos: My child with a tank. We are appalled.
In the afternoon the excitement has subsided and we dare to go outside. We take the bus to the center. Everything is just like the day before, when we drove to downtown Belgrade to see the faceless pedestrian zone and the tanks in the city park at the fortress. The mood of the passengers is relaxed, it is everyday life here. The bus stops and several people get on. There is a young man among them, 20 at most. He wears an improvised uniform with a badge on his parka and looks like a partisan to us. The silver-sprayed chucks on his feet don't really go with it, but his expression is patriotically serious, and in his hands he is holding a high-quality flag, meticulously rolled up. He stands next to me for a while, holding onto the same bar as me while driving. Then a seat will be available further up front. Before he sits down, the boy opens the window and his flag unfurls in the wind. It is black and shows a white skull, labeled with a Cyrillic banner.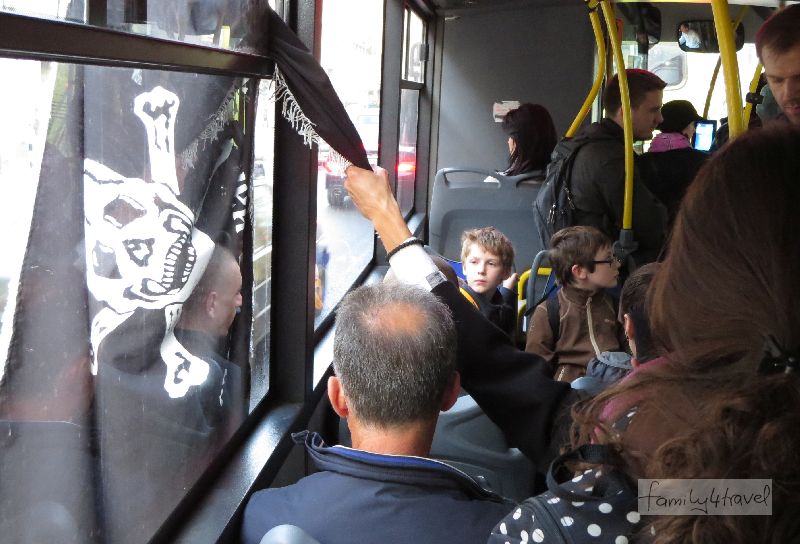 When a man in the look of a street fighter with a skull flag sits in the bus between you and your children - shock moment in Belgrade, photographically documented from the hip.
Martin and I exchange shocked looks. Our boys, who are sitting in the front of the bus, look at the spectacle confused. Otherwise nobody cares. Some passengers are demonstratively looking in a different direction. Most of them stare at their smartphone anyway. Nobody seems to be bothered by the fact that they are sitting on a bus that is actually advertising a fascist Greater Serbia. Every now and then a car with the Ŝeŝelj flag overtakes us. The inmates honk and give thumbs up. For the first time on our trip, I think the world is a bad place and just want to go home.
Further reading: Traveling with children in the Balkans
In the meantime I have another blog post about Belgrade online, in which I mainly show photos of our five days in the Serbian capital, plus one day in the border town of Vrzac:
And then of course there is the whole story in detail in my book:
Update: 2 years and 39 comments later
This little authentic travelogue, which is now more of a subjective snapshot, has been online for more than two years. It is one of my "bestsellers" and if you enter "Experience Serbia Travel" or a related search term on Google, you will quickly land on this page. It is easy to imagine that this is not well received by Serbs who are connected to their homeland (even if one or the other with appropriate comments is happy to help on the jumps - for no other post on family4travel have I been insulted as often as for this one) .
I have said again and again, almost like a prayer wheel, that with this episode I have experienced myself, I do not claim to know Belgrade as such or to allow myself to judge this city and this country. We were in Serbia for almost a week, that's not much.
The comment of the tour guide Bogdanka (to be found at the very end of this article) motivated me to link the reports of other travel bloggers for a more balanced picture of the city of Belgrade and Serbia as a travel destination.
Dear potential travelers to Serbia: Please do not rely on our experience alone! Read the other travel blogs, read the newspapers, prepare - and then just go there and make your own picture! (And then you come back here and share your experience in a comment here - that would be great! :))
More experiences from trips to Belgrade
Reports to other travel bloggers who were also in Belgrade and wrote about their trip:
As a mother-daughter team, Frauke and Johanna from we2onTour traveled to Belgrade, drew a positive conclusion despite all the criticism and collected many practical tips for the city trip to Belgrade [unfortunately temporarily offline, apparently planned relaunch as "Tourix"].
Marc and John from 1thingtodo were young backpackers in Belgrade for two days and one night in October 2015 - as always haphazardly and with open eyes.
At the invitation of the Serbian tourism agency, Anita from travelita was apparently allowed to do exactly the tour that I suggested to Bogdanka in September 2015, and she brought along great photos and real enthusiasm.
The poisonous blonde actually blogs about cooking, but also talks about her stroll through Belgrade in 2014 (including a tip for an apartment).
BerlinerOnTour Sven lived in Belgrade for a year and gives tips for tourists.
In April 2015 there was apparently a press trip to mark the opening of the Radisson Blue Hotel in Belgrade, which a number of German and Austrian travel bloggers also used for an article about their impressions of Belgrade.
In August 2015 the Falkensteiner Hotel evidently followed suit, and some blog articles about Belgrade were published again.
You are welcome to add further links to travel reports and blog posts by commenting. (Update 2020: I closed the comments because almost all of them were insults. If you really want to, you can find other ways to contact me [yes, unfortunately also those who really want to insult me]).